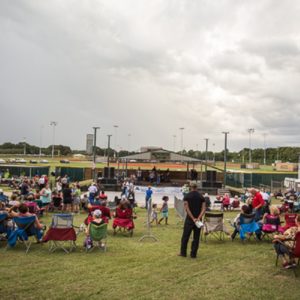 Our Mercredi Show takes places in the Spring starting in April and the Fall starting in September. Every Wednesday for seven weeks from 6:00 – 8:30 PM, we have local bands and artists perform at Pelican Park. We have had many different bands and artists such as Jamie Bergeron, High Performance, Dustin Sonnier, and Nik-L Beer. We have food and beer available for purchase. We ask for no ice chests, but bring your lawn chairs and get ready to listen to some great local music on the hill! To see the upcoming schedule, please check below!
Free Admission | Food & Beverages Available | No Pets Allowed | No Ice Chests Allowed
Please check back for Spring schedule!